Essence better than gel nails base sealer
Essence Candyction (Crazy good times TE, 3 coats)
Essence better than gel nails top sealer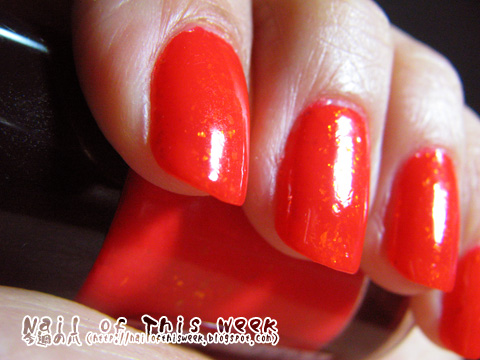 First when I saw this polish as the preview by my daily-blog-seeking, I felt WOW HOLY GOD VERY CUTE. While I found this in my local drugstore, I just grabbed it without thinking anything but OMG IT'S TOO CUTE. It's flakie polish with neon orange-pink creme base, which you won't see so often.
And now, after the application to my own nails, actually my voltage fallen down…the formula was a bit tricky, a bit too thick and flakies bothering around for even application so I didn't like it, and…personally, it just didn't look great on my nail. Well, this is the first time to realize that these kind of neon color is not my color at all…I think I'll never try other neons anymore *sigh*
Anyway, color itself is great so I still really, reaaaaally love how it does look like through the bottle…this still makes me happy :)
発売前のプレビューがかわいくて、店頭で見てもかわいくて、実物を見た瞬間即買いした1本。……なんですが塗ってみてあまりの似合わなさに撃沈。少々塗りづらい(もったり系&ラメがちょっと邪魔)のをどうにか頑張って塗り終えて、しかし頑張ったにも関わらず漂いまくる隠し切れないあまりの違和感に絶賛激烈凹み中ですorz 物はキレイなのよ!オレンジ系ピンクベースで中にフレークラメがちらちらしていて本当にかわいいのですよ!なのに!!
どうにか使えんか思案しつつ、とりあえずは観賞用でしょうか……しょんぼり。