Seche Clear base coat
Color club Turn The Other Chic (gradient)
Seche Vite top coat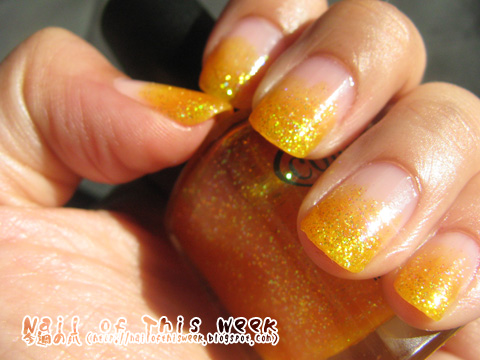 As the blog title shows, I normally change my nail just once a week, only on the weekend. But I was sooooo uncomfortable with my last one, I decided to repaint it. I still couldn't give up using "orange" on my nail, so I tried another orange with gradient pattern…and now I feel really better!
Turn the Other Chic is light yellowish orange jelly with tons of tiny silver/holographic glitters packed in it. Formula is a bit thick but dry very fast which means it works pretty well for gradient creation. This reminds me the sunny summer days…even if it's pretty gray outside (as usual german winter time).
気に食わないが極まって結局塗り替え。しかしオレンジが全く似合わないのか!?ということで恐る恐るやってみましたオレンジラメグラデ。……悪くないんじゃね?と絶賛自画自賛中で御座います。少なくとも前回の違和感バリバリ状態よりはずっといい。もしかしたらポイント使い(フレンチとか)ならいいのかも知れません。
Color Clubのオレンジラメは濃い目のクリアオレンジに粒ラメぎっしり、もったり目のテクスチャですが乾きがほんっとに早いのでグラデしやすくて良かったです。