Essence better than gel nails base sealer
Essence nail color3 midnight date (2 coats)
Essence better than gel nails top sealer
Navy blue is one of my favorite color for the nail. I strongly believe that navy blue or dark blue is the color for me, I feel really good when I wear those colors. Of course I have several pieces of navy blues in my stash, and this one is pretty new comer.
Essence nail color3 is two-sided polish which has been newly installed in essence's core line recently. It contains two colors; one for base and one for effect-top. This nave blue one is combination of nice shimmery navy base color with blue-green flakie top, so as I'm navy blue lover and flakie lover, there's no reason not to get this one.
So…the base color is called "midnight date". It's nice navy blue with a bit lighter blue fine shimmer. It's kind of navy blue shimmer polish you can see everywhere, but doesn't mean it's boring. Application is not bad, nicely pigmented and opaque in two coats. Also for me long bottle was helpful for smooth and stable application (it could be handled like marker pens).
Now let's see what happens after the topcoat…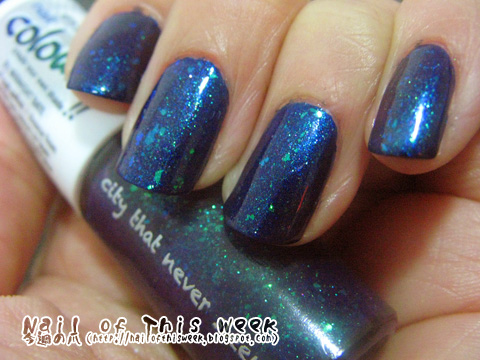 …which called "City that never sleeps" (one coat). Isn't it pretty!? I love this effect! Actually I couldn't capture all the beauty…oh it's much deep and really beautiful…but still I think this photo will tell you how nice this polish-set is. Flakies are not too less but not too much, I think it's "just". Not only this combination, but I love this topcoat! Next I really should like to try on other polishes I have…
EssenceとCatriceは2ヶ月毎に出す限定品の他、毎年2回大きく定番商品のラインナップを変えてしまうことが知られているのですが(まあそもそも親会社一緒ですし)これは今年最初の総入れ替えで新たに加わった商品の1つです。その前に限定品でニコイチボトル(どう呼んだらいいんでしょうねこういう形)のコンビポリを出していたのですが限定品だけじゃねーとでもなったのでしょうか。量は少なめですがこういうのはこれくらいでもいいですよね。そんなばんばか使うような色でも無いし。
さて中身はシマー入りネイビー×青緑系フレークラメ入りトップです。ネイビーの方は何というか「よくある色」なんですがなかなか塗りやすく乾きもいい感じでした。というかこの長ーいボトルでペン持ちすると安定感急上昇=かなり塗りやすかったです。
トップはラメの密度がちょうどよく、一度さっと塗るだけででいい具合にきらきらが乗ります。これが色に深みを添えてくれて本当にキレイで!角度を変えると青~緑に色を変えながらちらちら光るラメがかわいくてお気に入りです。
ところでここの商品、名前もいちいちかわいいのです。真夜中のデートに眠らない街、って何か物凄ーくそれっぽくないですか!?<阿呆