Essence better than gel nails base sealer
Sephora Moody woman (2 coats)
Essence better than gel nails top sealer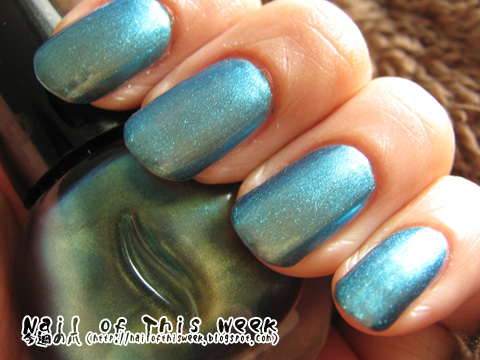 So one from my last french-shopping! This gave me nice duochrome color with pretty strong metalic finish, that it certainly looks like "foil" depends on the strength of light, or angle from the light…that, one above and one below is taken under exactly same light-source…but looks really different, isn't it?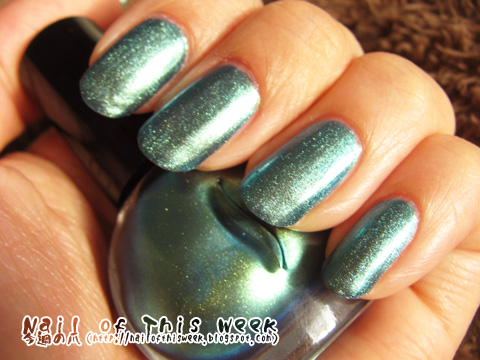 As other duochromes this was soooooooooooo hard to capture, even if I took the photo under direct sunlight/artifitial daylight/dim light/soft light/or whatever, it often looked one-color. I think because shimmer is very strong and metalic, this could scatter all the "color-shifts" and won't appear in the photo…but it's really great duochrome!
Application was easy, the brush was similar to catrice one, drying time was a bit slow but still acceptable…I especially love how marine blue appears by this polish, it might give me great pedi for summer!
セフォラから1本。虹色帯が出るポリのことを日本では玉虫いっていますが(そしてこのブログでも使っていますが)本当の玉虫ってこういう色だよねえ、という強烈な偏光のぎんぎらしい1本であります。カラーシフトはマリンブルーから金色っぽい緑、ついでに偏光シマー自体ちょっと他より大粒だからか光の当たり方によってはフォイルですかこれいうくらいの勢いでぎらぎら光ります。
角度によって出るマリンブルーが本当に何というか青色1号というかバスクリンというか素晴らしく鮮やかな青でお気に入りです。しかも偏光だからマリンブルーべったり一色には絶対にならず、必ず何処かに緑っぽさ・黄色っぽさが入るので黄色人種には使いやすい色になってると思います。ブラシがかなり太いのでちょっと塗りにくいかなーというのと(爪の大きい人向き)乾きがちょっとばかり遅いなーいうのといいことばかりではありませんが何せ発色が実に美しいので気になりません。ちょっとシアーだけど(光に透かすとフリーエッジがばっちり見える)ぎんぎらなので解りにくいというのもいいところ。
実は当初買う予定に入ってなかったんですが、買って良かったー!