Essence better than gel nails base sealer
Essence I'm a marine girl (50's Girls Reloaded LE, 2 coats)
P2 Pearl crackling topcoat blue thunder (1 coat)
Essence better than gel nails top sealer
Do you like crackle polish?
As you know last year was BOOM on crackle polish, driven by manufacturers but not by users at all, which made pretty a lot of polish-fanatics fed up of them…so do I. Crème-finish crackles, it wasn't my taste, I don't own any of shatters or crackle-glazes; but while I found some of so-called "pearl-finish crackle" in my local drug store, I felt like "Okay at least I should try them", and…actually I might say I love this "pearl crackling" series from P2.
It says pearl, and yes it looks pearly when you end up the mani without any glossy-topcoat or what ever as below…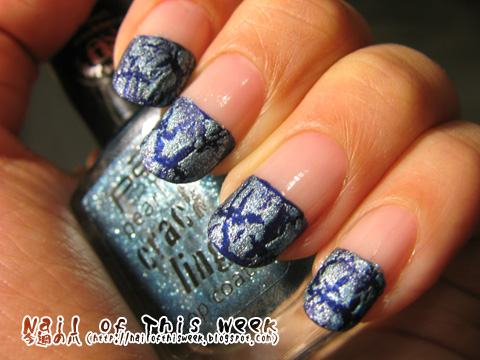 …but I like to finish by adding glossy topcoat because as soon as topcoat covered the crackle it BLINGS! It's not "pearly" anymore but instead it looks very shimmery or even glittery! I love the way it crackles, as crackle-looking really depends on it's formula (and this is another reason I don't feel buying shutters), this one is perfect for me.
(L: with topcoat, R: without topcoat. My taste is left, but which do you like?)
Good finish, good formula, and what else? This also has very good price, 1.75 euro for 11 ml! It's a bit small bottle but only one coat is needed and for sure it's not for everyday-nail-painting, I think this is really enough. Blue thunder is my favorite, but I have others in my stash waiting for my next use. But anyway, good job P2!!
いやー去年本当に阿呆かいう程流行りましたねクラックネイル。正確には流行らさせられた、かな。何であんなに何処のメーカーも猫も杓子もクラックだったんでしょうか。未だにちまちま出ていますがそんなたくさんあってどーすんの、なポリの代表格だと思うのですが。
ということで基本的にはわたくしクラック否定派です。特にクリームフィニッシュのクラック、黒とか赤とか白とか、本当どう使えというのだと思っています。大体15mlもあったって使い切れるわけねーじゃん、特別安くも無いし、それなら他のポリ買うよ、とも思っています。
……が。
ドイツにはP2というドラッグストアコスメブランドがありまして。そこでクラックポリを売り出したのです。P2は品質もさながらその素晴らしいプチプラっぷりでドイツではスタンダード中のスタンダードの1つでして、そんなところが作るのなら悪くなかろというのと、あと当時多分最初にゴールドのクラックポリを出していてこれの色出しがいい感じだったので、1.75ユーロ=200円かー失敗しても痛くねえなーと買ったのが始まりでした。
このゴールドが非常に優秀でして、シマー入りクラックかわいいじゃないか!となり、その後去年シマー入りがさらに増えまして全色(といっても全部で5色)買って今に至るという感じです。ちなみに商品名は「パール」ですが正しくはシマーだろうと勝手に思っています。
というのも確かに最初は粉っぽいような感じ=パールっぽいといえばその通りな仕上がりになるのですが、グロッシー系トップコートを塗ると雰囲気大変化するからです。ツヤの下で大粒のシマーが光り、ラメをかけたような、でもやっぱり違うような何ともいえないきらきらな仕上がりになります。あと割れ方もいいのかな。大きくクロコっぽく割れるので割れ損ねたゴミがいっぱい(´・ω・`)みたいな見た目にはなりにくいです。
今回はネイビーのポリと一緒に直線フレンチにしてみましたが、全面塗りしても意外とイカツくなりません。最近あまり使っていなかったのですがもっといろいろ使いたいなあと思う1本です。