Essence better than gel nails base sealer
AC nail enamel D78 (gradient)
Essence better than gel nails top sealer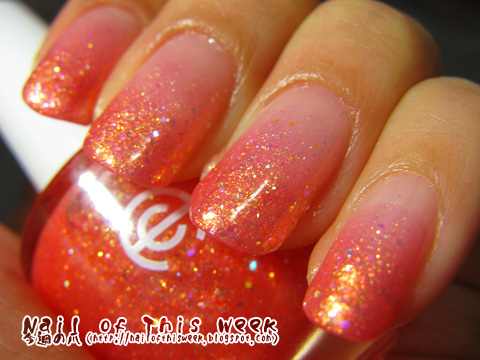 Sort of business meeting on this week = No bold color, no fancy or tricky design allowed. But otherwise, simple beige or pink or whatever = it'll bore me for sure. Office-like holos? I already did in last two months. Then what?
...Above was what I was thinking until I desided to do this glitter gradient. Oh yes, glitter gradient for meeting. But well…don't you think it's at least better than bold color or full-nail-art? I wanted to make simple looking, but not simple one- or two-coat, not too fancy but not too boring…and finally I reached to this result.
Polish used here is Japanese polish called AC nail enamel. It's beautiful, isn't it? It's not a simple one-glitter, but mixture of at least two glitters with golden shimmer in coral jelly. This brand has great line of glitters, but I only own two of them. This was my first use of their glitter, and now I really feel I need MORE! So this is how my wish-list for next japanese trip grows up…*hahaha* :D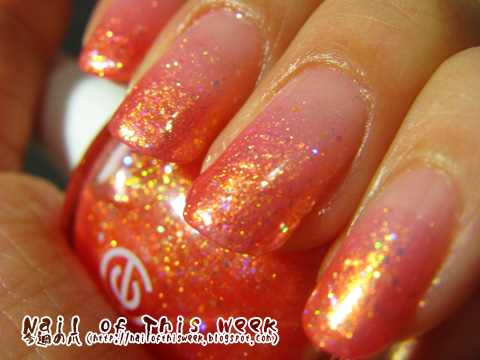 仕事ネイルでラメグラデってどうなんすかね。とはいえぱっと見派手じゃなくて、あまり手をかけすぎてるようにも見えなくて、でも自分の爪見るといい気分になる程度にはキレイでー……とかいろいろ考えていたら最終的にこうなってしまった件。どうしてこうなった。
とはいえD78、元の色が超肌馴染みのいいコーラルピンクな上にessieのCool-lotsみたいなゴールドパールも入っているのできらきらするものの派手さやイカツさはゼロです。意外とラメもぎんぎらしないので正直いつもより見た感じおとなしいくらいです。何か飾りたくなりますがこれはこれでいいかなあと。そもそも材料の類いなーんにもありませんしorz
しかし100均ポリ侮れませんな。次帰るときは全部あるだけ買って帰るつもりです。……これ買ったときは父親が一緒でしてな、いくら100円均一だといってもさすがにポリばっかり10本20本父親の目の前で買う勇気は無かったという(´・ω・`)一緒だったのがダンナだったら一個も躊躇しなかったんですけどねー……しょんぼり。