P2 8 in 1 Nail wonder
essence color & go! choose me! (2 coats)
essence better than gel nails top sealer
After the nude color, here comes again the fun-color! As I saw this color at the numbers of blogs, I wanted to try this one myself…and could understand why people are cought to this one. Marine blue with large gold-green shimmer which really *sparkles* in the real almost as glitter…OMG such a beautiful color!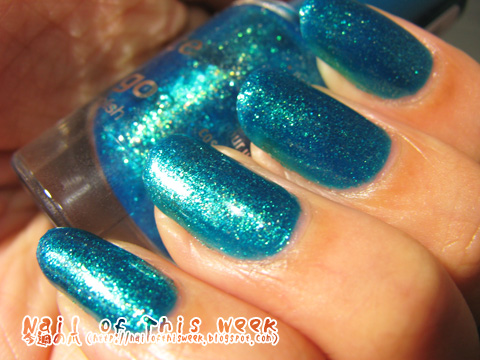 BUT there's one big negative point for this color; this color stained my nail like HELL. I've never got such a point anywhere, so probably it's only for me but it was really the first time I got such a great staining, that all the nail went completely GREEN. Maybe it's due to remover I used (that was first time I used the new non-acetone remover), or basecoat was not thick enough to prevent staining, well I don't know…but it really happened to me.
I love the color, I'm happy to own this, but now I'm a bit hesitating to wear again :( I bet I should try again, but I had to buff the nail to remove the stain (even my nail is REALLY thin!! :'( ); I'll try again only when my nail has grown enough and completely refreshed.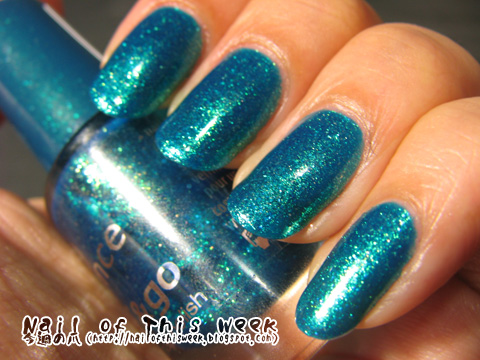 ド派手色再びー。写真には上手く出てくれませんでしたがゴールド~緑の大粒シマーが輝くマリンブルーです。シマーがびっかびか光る上本当に粒が大きいのでほとんどラメポリに近いものがありますが一応種類別シマーといっていいかなーと思っています。角度によって微妙に色が変わる物凄ーくキレイな色ですし、塗りやすかったですし、乾きも上々、……だったのですがオフする時に評価が急降下しました。
爪 が 超 絶 染 ま っ た (´;ω;`)
過去あり得んくらい最大級の染まりっぷりで冗談でなく爪が真緑でしたorz どれだけ除光液たっぷりのコットンでごしごししても全く取れないので泣く泣く表面を削ったくらいです。ただでさえ素爪はぺらいのに!ジェルしていないと折れるとかいう程ではないけれどそれでもジーンズのジッパーに挟むとちぎれるくらいには薄いのに!!
もしかしたら使った除光液があかんかったかなーと思っているのですが(初使用のノンアセトンリムーバー。コレがほんっっっっとに落ちなくてヽ(`Д´#)ノムキー!!)だとしてもまた試すのが怖い。少なくとも削った部分が全部新たに生え変わるまでは試せません。……こういうのだけはチップで試すことも出来ないので結構怖い部分だよなあと思った次第です(´・ω・`)