P2 8 in 1 Nail wonder
Barielle Polished Princess (light green, 2 coats)
Barielle Date Night (Dark green, gradient)
essence better than gel nails top sealer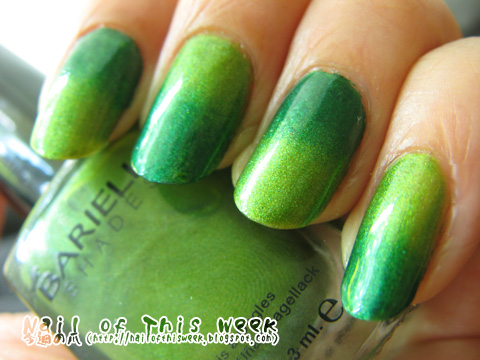 I'M VERY HAPPY HAVING THESE GREENS!!
...Ah, maybe I'm too excited for these my FIRST Barielle polishes but I wanted to shout out like that!! Today's gradient is built by two greens from Barielle Earthy Green collection, the great package made with five green polishes. I chosen these two because they contains very similar fine shimmer which promises nice smooth gradient look. Actually shimmer is REALLY fine that it's not seeable on the photo, but still I can say these two are nice couple for gradient!
Gradient is built by cosmetic sponge as well known, BUT instead of mixing color on foil I simply applied both polish DIRECTLY on the sponge, dabbed a bit and then applied on the nail. At least this worked better for me rather than picking up the mixed color from foil…and I think this is much simpler way to build the gradient without the mess, that all you need is sponge + polishes and nothing else. It's kind of modified method, but…if it works better/easier than original method, why not? ;)
どうにもこうにも緑ポリとなると冷静さを失うようで、多少値が張っても緑ポリってなかなか無いし!とばかりに緑ポリセットを買ってしまうあたり実に重症であるといわざるを得ないのですが(とはいえこちらの記事見たらああまだまだだなあと思ったわけですが<なおさら重症である)。今回はそんな経緯で買い込んだBarielleの緑ポリセットを使ってみますた。5本あるうちこの2色は大変にシマーの質感が似ていて、こりゃもうグラデるしか無いだろう!と思っていたのですが思っていた以上のしっくり感で大変満足です。多分白ポリとかで全面スタンプとかしたら相当キレイなんじゃなかろーかとも思うのですが如何せんわたくしスタンプが本当に 下 手 でしてな……(´・ω・`) まだしばらくはチップ使っての練習あるのみという感じになっておりまするorz
あとグラデ、アルミホイル上で色を混ぜてスポンジで取って、……なんて面倒なコトやってられっかー!!ヽ(`Д´)ノとなりまして。スポンジに 直 接 ポリを塗ったくって、1回ホイルに押し付けて境目を馴染ませて、それからべったり塗るという方法を取りました。正直この方がスポンジに吸われるポリの量を調整できるだけ簡単な気がします。全面グラデってなかなか境目をぼかしにくいものですがこれならもっと気軽かつ簡単にできるかなー、と思うのです。多少境目できてもトップコート塗れば解らなくなるよ!(`・ω・´)