P2 8 in 1 Nail wonder
essence color & go! walk on air (2 coats)
essence color & go! blue addicted (3 coats)
essence better than gel nails top sealer
I'm not a big fan of glitter polish, especially if it's glitter-packed polish with clear base. I think it's because I'm from JP, the country of nail arts and self-gel nailers, sorry but they don't look so new and fabulous for me. BUT this well-known dupe of Deborah Lippmann Across the Universe is COMPLETE exception; It's really eye-catching because of it's balance of glitter and base color.
So blue addicted contains blue-green hex glitter and blue fine glitter in dark navy jelly. What I really love is the transparency of the navy jelly; It's dark enough to appear its color by three coats (I tried on a bit light blue as a base color and its color was completely masked after third coat, haha) but clear enough to give the depth to the entire color. Glitter really looks floating in the jelly…doesn't look so juicy? I can feel my mouth is watering!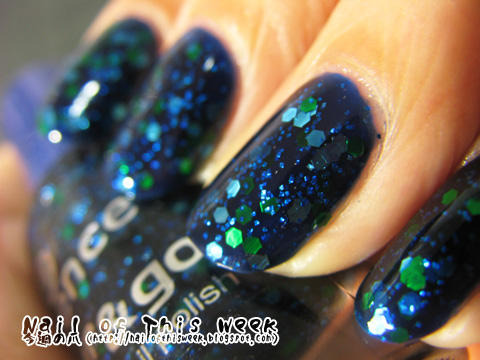 Only my mistake this time was base color but now I learned any blue used as background will turn into same result so I'm OK :D However the sad news is that this is going to be discontinued within next TWO MONTHS…it's too sad!! Oh god, I'm sure I must get few backups for myself soon…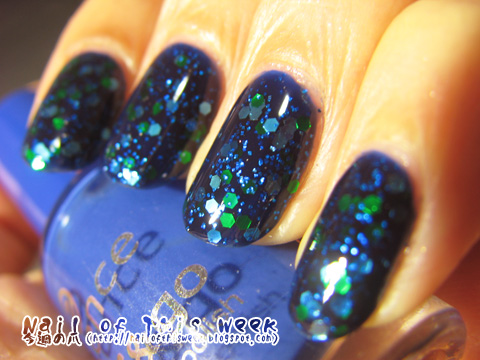 ラメポリは基本的に日本の方がよっっっっっぽど進んでいると 確 信 していますが、ごくたまーにコレ日本には無いよ!というポリが出て来ることがありまして。このessenceのポリはその最たる例です。とはいえ同じようなのがDeborah Lippmannから出ていて(Across the Universe)なおかつ日本にも入っているようですからいう程新しいものでも無いと思いますが、これの特筆すべきはそのお値段!!であります。15mlでさんぜんえん(現地でも18ドル)!するDeborah Lippmannに対しこちら5ml入りとちんまりではありますが1.25ユーロ!すなわちひゃくごじゅうえん!!というスーパープチプラなのであります。
プチプラではありますがそこはessence、ネイビーのクリアベースの透明度が非常に絶妙でネイビーの中にラメがぷかぷか浮いているというような奥行きのある見た目になります。クリアなのでベースカラーを塗った方がいいですが、ネイビー意外と強く出るので青ならどんな青でも大体大丈夫そうです。ラメざくざくですがざりざりせず、上にグロス系トップをかけたら見事にちゅるりーんとした何とも美味しそうな仕上がりに。人差し指に六角ホロが何故かどっかり乗ってしまったのですが、本来は3回塗りで中指や薬指くらいのラメ具合になります。
ちゅるちゅるのジェルっぽい見た目も含めて、派手ではありますが超お気に入りの1本!しかし何と再来月廃番になっちゃうのです!!(´;ω;`) 今のうちに何本かストックしとかないとなあ……(´・ω・`)