P2 8 in 1 Nail wonder
Catrice Sold Out For Ever (Old = light shimmery green, 3 coats)
Catrice Sold Out For Ever (New = pastel white-green, 3 coats)
essence better than gel nails top sealer
So…what I hate in polish world. I like/dislike many stuff around nail polish because of my taste, but I REALLY hate brands making DIFFERENT color in SAME name PLUS product code. One well-known example is of course the OPI My Private Jet that OPI made at least two - or even a few more - different versions with completely different shade. I don't understand why brands do this, different shade could be different name or at least different code, no? Anyway today's feature is another well-known example; Catrice's Sold Out For Ever.
As far as I know…"old" Sold Out For Ever was released as 2010's new core line, and was announced to be discontinued this March. Actually it was right and wrong; that NEW shade with SAME name Sold Out For Ever was added as one of NEW core line released at March 2012. Instead of nice green color with pretty shimmer, plain white-green crème got same name and product code…
By the way I own both, so…why not combine these two different shades with same name in one mani? I think this will give the idea for the difference of these shades…at least I'm happy to find these two shades are friendly and not fighting each other :) One thing I disliked is chalky formula of "new" one, but probably this will be good stamping polish…It seems to be.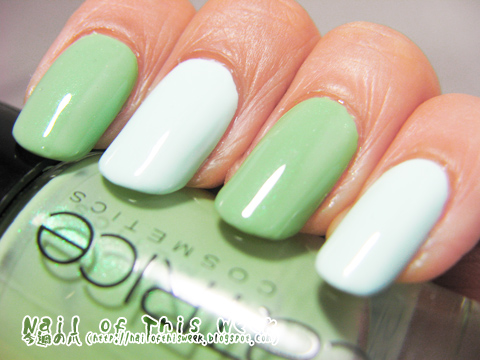 新しい色に同じ名前と同じ製品番号をつける心算というのはどういうものなのか真剣に知りたいChiroです。一番良く知られているのはOPI My Private Jetでしょうか。別に新旧どちらのバージョンがいいとも悪いともいいませんが、違う色を作ったなら違う名前にしろ、せめて品番くらい変えろと本気で思うのですが。大した手間でも無いでしょーに、ホント。
さて今回のCatriceのSold Out For Everもそんな色の1つです。この名前を持つ色自体は2010年からあるのですが今年頭に廃番が発表、……されたと思ったら全く違う色が同じ名前で出て来たという。共通するのは緑系であるという点のみ、濃淡も違えばシマーの有無も違うという違いっぷりです。ここまで違うなら違う名前にしろよというところなのですがついた名前も品番も同じ。どういう判断ですか全く。
ともあれ違う色ですが同じ名前同じ品番ついでに同じ系統の色ということで組み合わせてみました。同系色である以外全く違う2色ですがそれなりにまとまったかなあと。ほんの少しくすみがあるからか意外に落ち着いた感じに仕上がりましたよ。ダブルフレンチとかに使っても相性は良さそうです。
……それにしてもどっちも系統が違うだけで悪くない色なのに、同じ名前なために比較されて良し悪しがつけられてしまう(そして古い方が良しとされて持て囃される傾向が)、というのはむしろ悲しいこと+ブランドとしては損だと思うんですけどね。違うんかなあ。