First, BE CAREFUL; it's PICTURE HEAVY POST!!!!!
あと日本語記事は後ほど追加しますスミマセン!!
(June 09 2012 added: Snow White is finally here, go here for the swatch post!)
I'm not a one who buy new collections as soon as they are available, but when I saw this on preview I couldn't wait until they'll get released! They are too cute to avoid, so fancy…and lucky me, I could find the shop which began selling them earlier than others! Oh yes sadly Snow white was sold out there but all the rest were available, why could I pass by? I grabbed all of seven dwarfs and sub-characters, and…here they are!!
As known, concept of this collection is Disney's Snow white, so these polishes are named after its characters. Seven small bottles are for seven dwarfs whereas Snow white is red polish with bigger bottle. Glitter toppers are sub-characters, Evil queen, The huntsman and Prince of charming. You can see each characters below;
(Image is taken from http://talaeh.wordpress.com/)
So now I decided to go for entire seven dwarfs' swatch WITH entire toppers; each of them are 2 coats, and toppers applied are Evil Queen for index, The Huntsman for middle and Prince of Charming for ring finger (I mean, left to right: Evil Queen, The Huntsman, Prince of Charming).
Grumpy. Nice royal blue crème with a bit of jelly-ish finish. I don't know why this is named "Grumpy", that he doesn't have any blue color on himself. Anyway the color itself is pretty, after two coats the nail line is still a bit visible but looks kinda juicy!
Doc. Bright orange crème with a hint of pastel. I don't like vivid/neon orange on my skin tone but this one was OK for me. A bit thick and streaky but two coats were perfectly fine to have good even finish.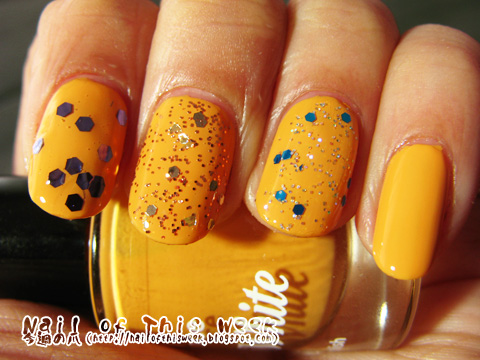 Happy. Egg-yolk like orange-yellow crème. Again a bit thick and streaky, but OK with two coats. I like the combination with The Huntsman! Gold with this soft yellow looks really great for me.
Sneezy. Pastel-toned light milk chocolate brown with fine golden shimmer. This was happy surprise for me; In the bottle it almost looks like normal crème, but on the nail…here comes the shimmer!! It just looks so lovely and sexy. Oh no I didn't get the backup for this one, I better should get it ASAP…!
Sleepy. Pastel mint green with hint of blue shimmer. My camera misunderstood this color as bright sky blue but it's a bit more greener in the real life. Shimmer is so fine it's hard to see on the nail. I love the combination with Prince of Charming, it's like swimming pool!!
Bashful. Green tea-green with full of golden shimmer and hint of gray. MY FAVORITE. The color is too nice, I have one backup but already feeling I need MORE! Also has best formula in entire polish, very smooth and almost one-coater. If you are the green lover, MUST HAVE. Even if you are not a big fan of green, still MUST HAVE :D
Dopey. Sheer pale lavender crème with fine silver glitter. This one was a bit too sheer that after two coat it was still uneven and uncovered. I did three coats on second pic (pinky), and now it's OK. Glitter is hided back to crème base, but still gives pretty shimmer.
And yes, I must comment on toppers for sure;
Evil Queen. Nothing but big purple hex glitters. As usual polish with big glitters, it's bit tricky to apply the glitter evenly, better not to apply by brush but scoop the glitters by toothpick or whatever…but well, glitter color itself is nice purple and will be good accent, especially on lilac/purple.
The Huntsman. Gold hex glitter, bronze glitter powder and clear chopped flake glitter. Mixture of hex + powder + chopped flake glitter! I've never seen such a combination! Density of glitters are just perfect; it's enough for easy application but not too much.
Prince Charming. Marine blue hex glitter and holographic silver glitter powder. Easy-to-apply topper again, except density of blue hexes are not great so if you need enough blue hexes you must scoop them. But for sure this'll give a good "charming" effect for summer nail!
So…I went very quickly, I hope these swatches will be your help. Actually overall formula was bit sheer, thick and streaky except lovely Bashful. Fortunately drying time is not bad so having two or three coats are not that stressful, but I have to say it's not so smooth and bit tricky. But it's concept is great and cute…now I'm feeling I must get ANOTHER ENTIRE SET for the backup!! Also I have to get Snow white polish as well. Unfortunately it's not out at so many shops, that I've NEVER seen them at dm/Rossmann around me until now, but I strongly hope this LE will be available at all the shops very soon!! :D