P2 8 in 1 Nail wonder
essence Fruity LE One kiwi a day (green)
essence Fruity LE Very cherry (pink)
Fimo fruits sticks
essence better than gel nails top sealer
Day 5, now it's the day for…Fruits!
First when I saw this theme, only the idea I had is to use the fimo fruits stick. But next when I luckily could get essence's fruity LE polishes a week ago…I simply thought it'll be great if I can combine both, as these polishes are really "fruit-themed" polishes!
Because I didn't have fruit stick for cherry, I decided to put strawberry slice instead. I think color itself is much strawberry-like than cherry-like, even though it's name is cherry…but anyway, both kiwi and cherry is definitely cute and unique :) Actually I was not so interested in when I saw them at first, but honestly (and happily) both of fruity polishes look waaaaaaaay better on nail than in the bottle, I'm very happy owner of these two! :D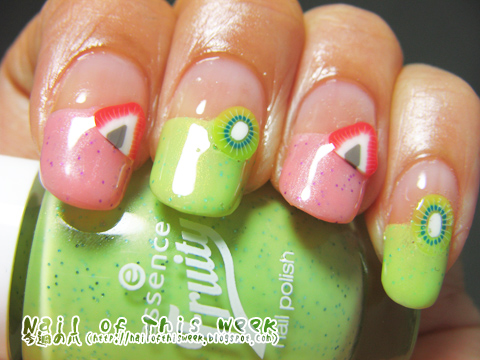 Now check it out for other's fruity-fruits nail…Really juicy! ;)
5日目テーマはフルーツ!とはいえりんごとかみかんとかじゃー冬になってしまうのでやっぱりここは初夏~夏のフルーツじゃないと、でイチゴとキウイを選んでみましたー!
……って実はコレほぼ偶然の産物なんですけどね。当初「フルーツスライス乗っけ盛りネイルしか無かろう」くらいしか頭に無かったですし。ちょうどこのテーマが発表された少し前にessenceから「Fruity」なるフルーツをテーマにした限定コレが出たのです。で、クリームポリに細かいラメ……で正直全く食指が動いていなかった→果物テーマktkr→何で買わなかったのかー!と後悔(この頃には店頭からあらかた消失していた)→偶然立ち寄った普段あまり行かない店で大発見→即時買って今に到る、と。
名前がキウイとチェリーですが、チェリーがどう見てもストロベリーピンクなのとさくらんぼのフルーツ棒を持っていないのと、でこうなりました。ボトル色では本当にあまりピンと来ていなかった2本ですが、実際塗ってみたらこれがまたかなりカワイイ色で、色出しもラメの感じもありそうで絶対に無い!という仕上がりで本気買えて良かったと思っています。しかしキウイ側のラメが光で飛んで上手く写ってくれなかった件。
……もっと修行が必要ですね……orz