Orly Nail Defense
Franken blue-black polish (2 coats)
KIKO 335 (1 coat)
MaxFactor Fantasy Fire (2 coats)
essence better than gel nails top sealer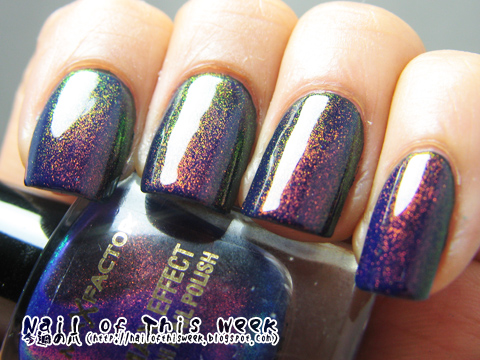 Fantasy Fire. Obviously the world's best known UK-exclusive polish. Well I've heard now it's also available at Slovenia and Romania (thanks for the info, Johanna!), but definitely it's still one of HTF polish. It was one of my biggest lemming; though I was so lucky that Hannah from Polly Polish kindly sent her backup to me!! I was super excited, but also already afraid to lose each single drop because of tiny bottle, though for sure I had to give a try…And FAILED :(
So above is my FAILURE mani. Because the base color of fantasy fire is Royal blue jelly but I don't own such a color, I took KIKO336 for base color and it went just TOO BRIGHT for delicate shimmer of Fantasy Fire; it's completely killed by background color. I gave very nice two coats but pigments didn't appear well, no color shift too, just pretty few red shimmer…that's only I could see on this mani.
I was so sad about this. I couldn't stand the result. Also I was very sure I did wrong. I KILLED THE BEAUTY. Shame my fault. I sought my stash, grabbed black/blue/purple creme, mixed up together…
And got this. Finally I mixed KIKO336, 335, 224 and essence black is back. I don't remember how much doses I used for each, and actually it went a bit too black…but additional coat of KIKO335 turned the color as nice deep blue color. And now I covered with Fantasy Fire again, and…
...WOW. It's just like coming back to the first pic, but just WOW…can you believe I gave exactly the same coat as before? I already could notice much pigment than before even by only one single coat, but two coats…it turned to heaven. Polish heaven. How beautiful.
So in summary; I've learned the importance of choosing right background color. It's not super important for other stronger pigments/glitters, but at least for this kind of color-shifting pigment…it's necessary. Maybe black must be most easiest background color, but I'm satisfied with dark blue for the Fantasy Fire; I didn't want to kill the base color of polish itself too! :)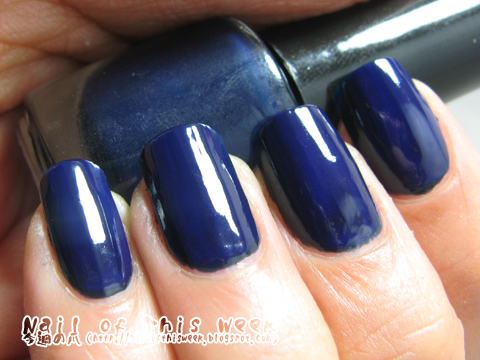 何故にこういうカラーシフト系ピグメント入りポリというのは地区限定販売が多いんですかね。以前紹介したBeYuは基本ドイツ限定(多分オランダにも?)ですし、今回のFantasy FireはUK限定品。MaxFactorってドイツにもありますよ。何でUK限定なんですかね。
ともあれクラランス230系カラーシフトシマーポリ第2弾、です。BeYuのは8ml入りでしたが今回のは5ml弱しか無い!ということで節約すべくベースカラーを別途塗布、……して大失敗したの巻ともいいます。あれだね暗い色じゃないとダメですね。Fantasy Fireの地色が鮮やか目な青だったので手持ちの青を下に塗ったのですが何分明るすぎた。失敗しました。シマーが全然見えない。いや見えるけど凄い控えめ、かつ偏光なはずなのに全然色が変わらず赤いまま……orz
で腹立ったあまりに色を自作調合して(ダークブルーのクリームカラーって意外と無いもんですから……色は2枚上を参照)その上に塗ってみた結果がこちら。
何というかこういうポリってバックの色を物凄く選ぶんだなあ、というのを身を持って知った次第です……orz
凄ーくキレイなんですけどね。なかなか気難しい1本ですな。