P2 8 in 1 Nail wonder
essence color & go! sure azure (pale blue, 2 coats)
essence color & go! galactic black (shimmery black, 2 coats)
essence color & go! sweet as candy (pale pink, flowers)
essence Ready for Boarding LE via airmail! (blue, flowers)
Golden Rose Nail Art Lacquer 107 (silver line)
essence better than gel nails top sealer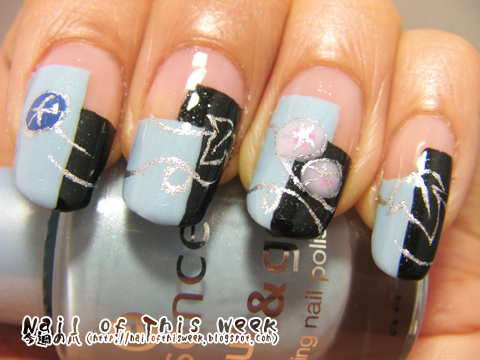 WHO SAID IT'S THE TIME TO REST!?
Haha, of course me, but I just wanted to share this mani with you; because this was initial planned mani for "recreation". As it has been changed a bit to "recreate SOMEONE's mani" from "recreate MY mani", I decided to follow the modified policy but also I was ready to show MY recreation; which is not really a "recreation", but very, very typical "summer" for myself.
So…as I'm Japanese, I have very specific "Japanese summer tradition" which is Yukata (summer casual Kimono). Design of today's mani is taken from my favorite yukata as I present here;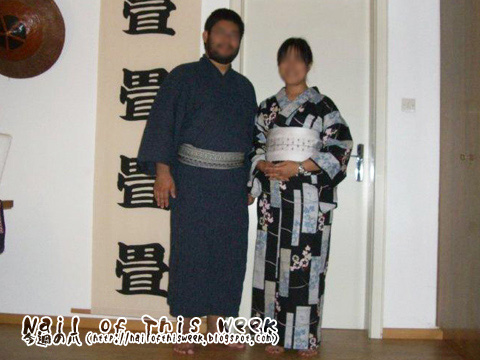 I love to wear Yukata at summer because it makes me feel great "summer" rather than any other clothes. Though sadly this summer is too cold for it, there's no chance to wear it yet; I hope I can get a chance to wear this…or others…pretty soon, otherwise I'll just miss the summer!! :(
えーまずは何でこんなどすこいな写真になっていますか自分。この当時でわたくし掛け値無しにダンナの 半 分 の体重だったんですが全ッ然そうは見えないこの悲しさ(´;ω;`)着付けが甘かったんでしょうなー。もっと着慣れないとあきまへんなぁorz
……という愚痴からスタートした今回の一発ですがコレ実は夏チャレ最終日用のネタでした。最終日のテーマは元々「あの(自分の)ネイルをもう一度」いうことだったのですね。でも同じものもう一度やっても楽しくねーじゃん、ということで浴衣モチーフネイルをやって準備していたのですが、終盤になってテーマが「あの(他の人の)ネイルをもう一度」という完全に似て非なるテーマになりまして。それはそれで面白いのでそっちに切り替えたのですが(前回の蟻ネイルですな)、でも浴衣ネイルは浴衣ネイルで出さないというのも勿体無いなーという感じになりまして……結果がこのエキストラ記事で御座います。
朝顔モチーフ、簡単そうに感じていたんですが何の何の物凄い難しいですな!まずぱっと見が花に全然見えんのは何故なんだぜ!って花弁が割れていないからなのですが。あまりに「それっぽくなく」なってしまったので葉やらも追加したんですがどうにも焼け石に水感が否めない……(´;ω;`)でもスクエアフレンチのお陰で和っぽくはなったかなーと。次はもう少し朝顔っぽく仕上げたいところです(`・ω・´)