Orly Nail Defense
BeYu 330 (3 coats)
essence better than gel nails top sealer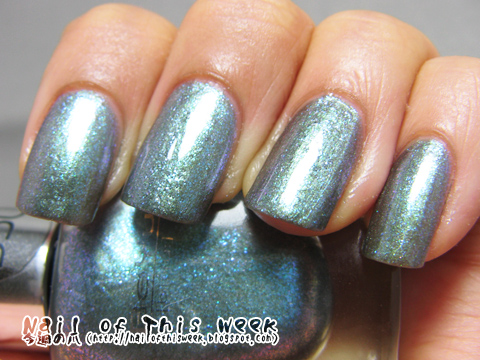 Honestly BeYu polishes are bit pricy for me so I don't own so much, but when I saw the swatch by Rie from Nails and Noms, I couldn't stop myself to get it, as I'm really a sucker of unique multichrome polishes; and luckily I could snatch the very last bottle from Douglas.de!
So sadly it's already discontinued - unlike well-known Brilliant Shiraz, it didn't go to new line - but I can't understand why it's discontinued. This is THAT beautiful and unique. Shimmery light blue gray with purple/blue/green glass fleck. I've never seen such a color anywhere.
Cool, sexy and unique looking but not too strong, so I even think this will be still accepted for office. It seems to match perfectly to black pants suits; at least I think when I'll wear suits next time, I'll definitely wear this color. Love it, and hope I can get backup…though it's super hard to find now :(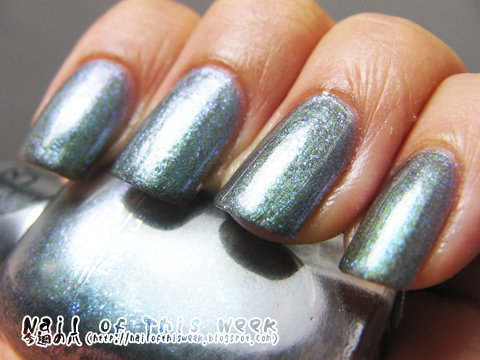 BeYuのポリってちょっと高いのでほとんど所持していないのですが、数少ない手持ちのうちの1つがコレです。あるサイトで見かけて一目惚れしたときには既にほぼ廃番、オンラインで運よく買えた1本は在庫ラスト1本でした、というシロモノです。いやー運が良かった。複数欲しいなと思って2本買おうとしたら2本も無いよと表示が出たときの衝撃といったら。危ねー危ねー。無事家に来たときには小躍りしつつ開けたもんです。
いうことでBeYu 330です。ベースがパールきつめのブルーグレーで、故に光が反射しまくっていて解り辛いのですが、紫・青・緑に光る大粒シマーがぎっしり入っていて角度によって見え方が変わるいわゆる偏光系ポリです。偏光系でこういうクールカラーって正直珍しい気が。単調なグレーでは無いのがいいのか、一見凄く派手な色に見えて実のところ非常に上品な指先になるクール美人系カラーです。黒いパンツスーツなんかに凄く合いそう。というか自分が次回スーツ着るときの指はコレだよなーと今から決め込んでいます。
……惜しむらくはとっくに廃番で、なおかつ販売国が非常に限定されているためスペアを買おうにも何処にも無いこと。何でこれを廃番にしたんだBeYu……(´・ω・`)