essence studio nails 24/7 nail base
Index, middle & pinky;
China Glaze Love Letters (1 coat)
Essie blanc (cross french, 2 coats)
a-England Lady of The Lake (cross french, 3 coats)
Ring;
Essie blanc (3 coats)
a-England Lady of The Lake (freehand pattern + 2 coats)
essence better than gel nails top sealer
Now my 3rd participation to the Polish Day by Polly Polish, present theme is "Geometric"! Actually this was pretty easy theme for me, because I had one geometric pattern which I wanted to do on my nail since looooong time; and that's what I did on my ring finger today.
It's the one of traditional Japanese tribal pattern called "Asa-no-ha (麻の葉)", which means hemp leaves. It's very commonly used as textile pattern, as you can see below;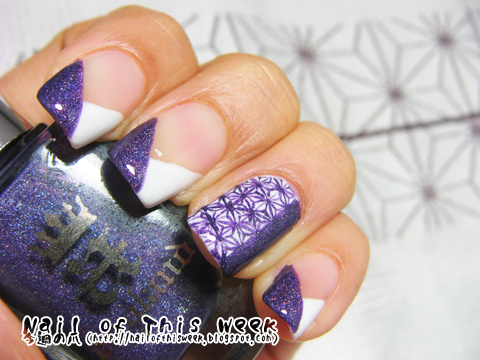 Sorry for blur pic, but I think you can see the pattern on the backdrop here; actually it's my "obi (kimono's belt)". Though it's very traditional and common, and really Japanesque at least for me, I feel it's also very modern pattern :)
I drew the pattern by freehand because it seemed to be too complicated for taping. Also initially I was planning to draw the pattern to all finger, at the french part, but I left without pattern; actually I'm happy with this finish, I think probably it went too noisy if I've added the pattern to all fingers.
Anyway even though I went simpler, it was a big work for me to draw all the pattern because I used the polish. You know, drawing with polish is much, much harder than drawing by acrylics…but I wanted to use same color as others. It didn't go so crisp as acrylics, but I'm still happy that I could build up this complicated pattern by polish :D
Oh and let me add few words for the color I've used, a-England Lady of The Lake; It's another color I've got with Tristam, nice purple holo with hint of gray. I'M IN LOVE. I think a-England's color fits perfectly to Japanese pattern…for me, they are much Japanesque color rather than typical western color. Hoping to get others soon, as NEW COLLECTION IS COMING SOOOOOOOOOON!!!!! XD
3度目まして海外版ネイル部ことPolish Days!今回のお題はGeometric=幾何学模様……となると1つしか思いつきませんでした、ということで麻の葉模様に挑戦!であります。いや麻の葉模様って前からやってみたかったんですよ、日本の伝統文様の中でも好きな文様なのと、あとわたくしのお仕事にちょっとだけ縁のあるネタでもあるので、どうにかできないかなあ、と。最初はテープでライン引きしようと思ってたのですが、ラインテープってどれだけ細くても1mmと結構太いのと、何より意外と模様が煩雑=テープきれいに剥がせる自信が全く無い、ということで決死のフリーハンド決行となりました(`・ω・´)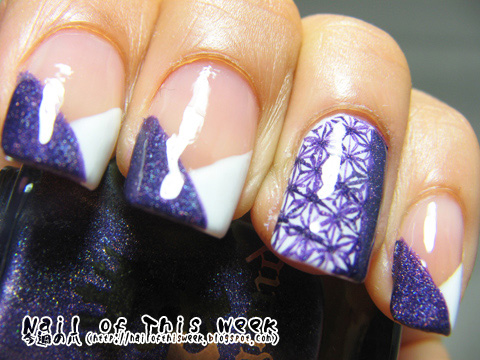 ……のですがポリでフリーハンドって無茶苦茶難しいですな。伸びないわ乾くわかすれるわで軽く死にそうでした。どうラインブラシを使っても凄く長い線を引くか凄く短い線を引くかしか出来ないので、ある程度大きくパターンの骨子を作ったら後はひたすらちまちま短い線を描き込むことでどうにか形にでき……たかな?という感じです。よく見たらカスレとか線のヨレとか酷いことになってるのですが遠目で見たら解らない!ので気にしなーい!といいつつ凄いアップですけどねコレorz でも和装に合いそうなネイルにはなったかなあと思います。今度和装するときはこれで行こうかな、と思ったりー。