essence carry me home! (Ready For Boarding LE)
Revlon Whimsical (7 coats)
essence better than gel nails top sealer
7 coats. No joke. Seven coats. When I try new polish, I always try to build up the color by itself (except clear-base color), and this happened. 7 coats, super-duper thick, but still free-edge is a bit visible…Revlon Whimsical is such a super-sheer color.
So I got this again from Diana@Nails by Diana. As EU Revlon doesn't sell this, she had been great help for me to get this very-well-known glitter-jelly polish. As bottle color is pretty opaque, even I've heard this polish is pretty sheer, I really didn't believe that seriously…until I went several coats.
Yep, even after few coats, free-edge was clearly visible, which I've never imagined. But I've already applied few coats = took certain time, and also Whimsical is very fast drying polish (fortunately!!), I've decided to build up by itself until my nail will be fully covered; so final need was 7 coats, and went as thick as gel nail :P
Honestly, even though my nail went super thick, I'm satisfied with the result. I didn't like the initial color - it was pale gray - but finally it reached to cute pale dusty mint green, and also number of coats gave the depth to the finish. I'm sure I'll apply background color next time, otherwise I'll lose too much drops, but…at least for first time, why not like this? ;)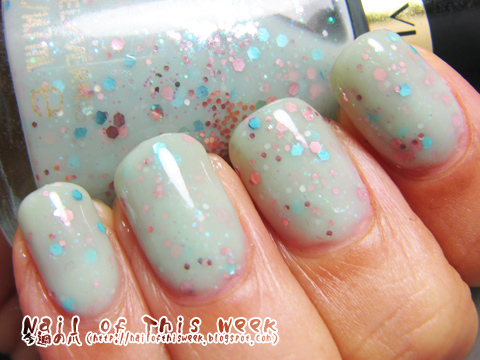 アメリカ限定かと思いきや日本でも発売されましたねーのRevlon Whimsicalです。いっやー大変だった!ボトルカラーからは判断つかないくらいのシアーさでどれだけ重ねても透けっ放し、そんなこんなで途中で投げ出しそうになりつつどうにか意地で頑張った結果が 7 回 重 ね 。どう考えてもやり過ぎです本当に(ry
ただまあどうあがいても透けるということに気づいたときにはもう4回くらい重ねた後で後には引けなかったということで。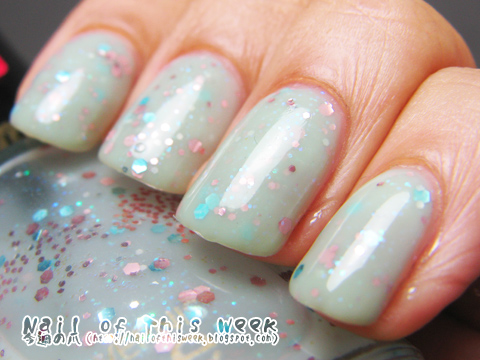 そんなワケで7回重ねた結果ジェルかと見紛うばかりのごん太爪になってしまったのですが、まあ見た目的には悪くないかなーと正直思っています。塗り始めはどんより曇ったグレーな感じだったのが、ネイルベッドが透けなくなった頃からボトルカラーのミントグリーンっぽい色がぱきっと出て来るという。結局肌の色が透けるとグレーになってしまうようで、それさえ対策できれば黄色人種の肌をキレイに見せてくれる優秀な色なんじゃないかなーと思います。……問題はその「対策」に使う色を相当選ばないと絶対にヘンになるというところですがorz いやほんと、何色を下敷きにすればいいんですかねえ……(´・ω・`)