essence carry me home! (Ready For Boarding LE)
essence Wild Craft LE Tree Hugging (2 coats)
essence better than gel nails top sealer
Normally I don't wear nude…or even don't buy nude. I own several nude polishes, and I feel that's already enough for my whole life. But just sometime, very rarely, I get them, when they showed me an interesting bottle color…and this one is such a kind of nude shade, that I've bought recently.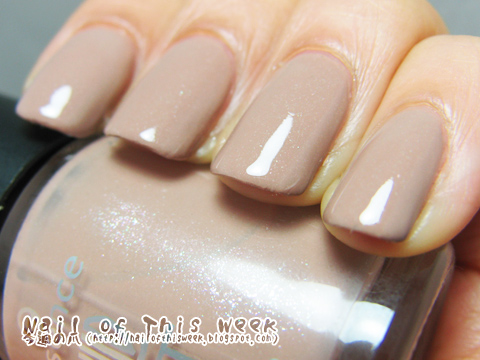 Tree hugging is mauve-ish beige creme with pink/skyblue shimmers. Shimmers are really fine and creme base are pretty rich, unfortunately shimmers just shows up its color on the bottle but not on the nail :( Also formula is pretty thick and a bit streaky, so better to give a drop of thinner before using.
BUT drying time and coverage is AWESOME. Actually it dries super-fast, which means formula goes very thick during the application, so I also can say this is a bit tricky polish; but it dries hard very quickly and opacity is really good as almost a one-coater, so I think it'll be a good choice for busy day when it's not able to take a long time for nail painting :)
ワケ解らん色ばかり見境無く買い続け、既に400本以上(!)を数えているわたくしのポリコレクションですが、物の見事にいわゆる「肌なじみのいいヌード系ポリ」はほっとんど所持しておりません。多分両の手で足りるくらいの本数ではないでしょうか。一時OPIのクリーム系ヌードカラー買おうかと画策した時もあるのですが、テスター塗ってあまりに「自分っぽくない」のに衝撃を受けて以来食指は全く動かず今に到ります。
そんな中で珍しく「面白そうなボトルカラーしてるなー」という理由だけで買ったヌードベージュが今回の色、essenceのWild Craft LEからTree Huggingであります。
……とはいえ写真じゃ何が面白いのかさっぱりですな。フツーのシマー入りヌードベージュに見えるこの残念っぷり。ボトルカラーは本当にキレイだったんですよベージュにピンクや水色のマルチカラーシマーが入っていて!ボトルカラーそのまま出れば本当に面白いキレイカラーなのに、ベースのクリームがこってり過ぎてぜーんぶ沈んでしまったというorz 加えてほんっとにこってりもったりした液質で超塗りづらかった!
でも乾きが超早いので忙し過ぎて塗れない待てない!というときにはぴったりな気がします。少なくとも私の中では時間無いときのお助けレスキューポリ化確定です。当たり障りの無い色だけど、だからこそ使いやすいというところもありますし。……ただ次回使うときは確実に薄め液併用しないとなーと思っています(´・ω・`)