essence carry me home! (Ready For Boarding LE)
essene colour & go! black is back (1 coat)
Spoiled Ants in My Pants (2 coats)
essence better than gel nails top sealer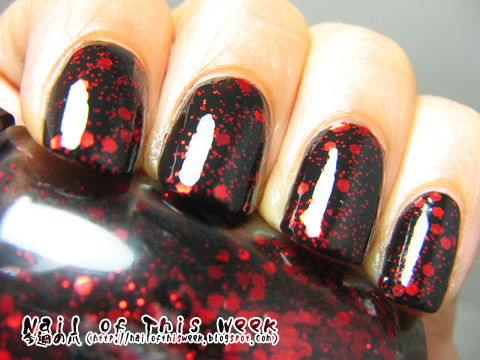 Again this is from Diana@Nails by Diana. I've got so many from her and I really need to try all of them, that's why most of materials I'm using for these day's mani are from her!! :D Anyway, this is one of my first Spoiled polish, which totally caught my eyes when I've heard about it from Diana.
I don't wear black so much, but the combination of red and black is the exception!! I know I love this combination too much, but when I feel to wear black color, I always put red automatically. Also I think black color is good with short nail, and as you see, my nail now is pretty short…so WHY NOT. :)
Though density of glitter is pretty good, it was a bit hard to apply hex glitters evenly. But of course this can happen for any other glitter polishes with middle/large hex glitters, so I didn't get surprised or upset. I'm pretty happy with this unique glitter, and now I feel I need more glitter as this, even I wasn't interested in glitters :D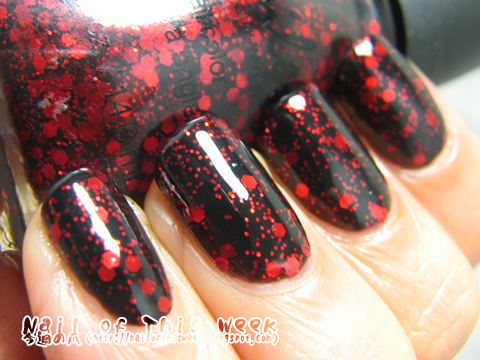 アメリカのWet 'n' Wildというブランドの姉妹ブランド、Spoiledからの1本です。こういう1色だけ大粒ラメポリってあんまり興味無かったんですが、その気分を一新してくれたカラーです。というか黒地に赤ラメって取り合わせとしては最強カッコイイと信じ込んでいるのですが如何でしょうか(`・ω・´)キリッ
しかし真紅の大粒ラメかわいいよ大粒ラメ!思っていたよりも簡単に爪に乗ってくれたので満足です。多少粒ラメが寄る部分がありますがご愛嬌。ちゃんとぺったんこに張り付くためトップコート2回重ねでちゃんとつるりんとなって正直ちょっと美味しそうだとさえ思っています(馬鹿)。意外と和装に合いそうな爪になった気もする!短い爪に濃い色、はきりっとした和装にばっちり合う気がするのですー( ´ω`)