essence carry me home! (Ready For Boarding LE)
Butter London Bluey (4 coats)
essence better than gel nails top sealer
Butter London is one of the most luxurious polish brand for me. 17euro per 11mL is just meh. There's more expensive polishes, I know, but still…not acceptable for me. Cool shades, cool bottles, but so what? With this price, I'll ask brands for more other benefits and I didn't want to disappoint myself…like, "only this quality by this price!?". Yes, I'm really a hesitant.
Few weeks ago, it changed. Thank gods I was so lucky to find some of their shades on bargain price. 5euro. FIVE. Less than 1/3 price. HOW CAN I RESIST IT. Not all of the colors were on bargain but SO WHAT!? I grabbed few shades which interested me, and Bluey was one of them.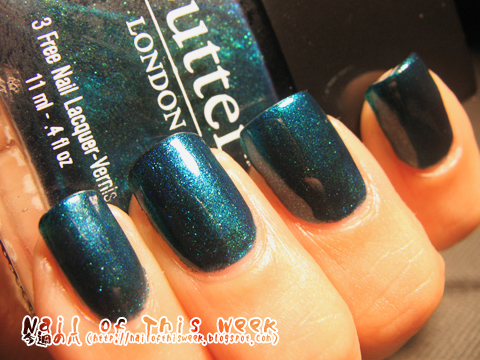 Butter London Bluey is navy jelly packed with dark teal/green glass fleck shimmer. It's really sheer that I needed 4 coats to get full coverage and deep beautiful color, but that was not a problem; that now I can understand why Butter London is pricy. Super easy application, smooth as butter, good drying time, NO smell…well, it has a bit of smell but absolutely less than others…so impressive. It's enough to fall in love. I can accept the price now. I really must say Bluey is the polish with most impressive formula in my stash…at least for me.
Now because I was REALLY lucky enough to get few more bottles in same time…
...I wanted to share my luck with everyone, which means it's the GIVEWAY TIME!! It's again OPEN INTERNATIONALLY and rule is same as before, just FILL UP THE FOLLOWING RAFFLECOPTER and cross your fingers ;) Oh and this time I'll choose TWO winners! Not only one but two of you will get a bottle of Bluey in your hand.
GOOD LUCK GIRLS!! :D
Quick update: Unfortunately Hellocotton is not working due to their problem, that I couldn't login (even couldn't sign-up; dialog says there's a server trouble). I hope it'll be fixed soon; or otherwise maybe I must skip this :( I'll keep updated, still there's a month left til deadline…stay tuned!
ちうことでまたもプレゼント企画でーす。そもそもはButter LondonのBlueyキレイだよ、ってそんだけのことだったんですがひょんなことから物凄ーく安く買えてしまったのでお裾分けなんぞを、と。
そんなBlueyはネイビーのクリアベースに青~緑の大粒シマーがぎっしり入っている素敵カラーです。あととにかく液質が良いです。Butter London高い理由が解った気がする、滑らかにムラ無く広がる&乾きが早い上に芯から乾く(表面だけさっさと乾いて芯がいつまで経っても柔らかいってありますよね)& 臭 く な い 。吃驚するくらい臭いがしないポリそれがButter London。お値段高くても納得してしまいましたよわたくし。速乾=臭いと思ってたのは何だったんだろうという感じです。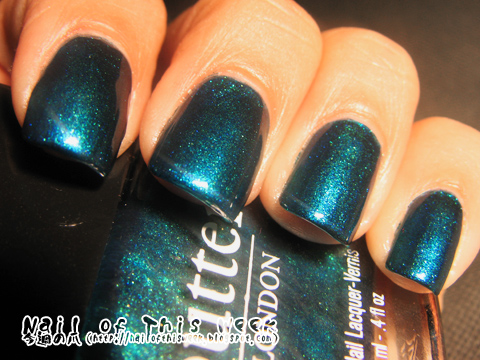 えーそんなワケで日本に入っていないButter Londonですが1本如何っすかーということで。メールアドレスだけで参加できますよ!個性の強い色ではありますがネイビーって結構イエベさんブルベさん問わず合うと思うのでこの機会に是非に!<何が