essence carry me home! (Ready For Boarding LE)
China glaze Love Letter (1 coat)
essence colour & go! black is back (black)
essence colour & go! famme fatale (red)
Posca (white & black)
essence better than gel nails top sealer
LONG TIME NO DO!!!!! :/
Yes last year I've been done several bundesliga-related mani, for BVB Borrsia Dortmund, SpVgg Greuther Fürth and FC Erzgebirge Aue, and since then I've always wanted to do something else but I totally lost my time and inspiration…but finally I'M BACK HERE :D So today's mani relates to yaaaaaaaaaaaaaay for current 2nd position, one of the team we're REALLY supporting this year, Bayer 04 Leverkusen!!
Well I know it's not a "fancy" or "sexy" team, but because my hub is fan of its SB & MF, Hajime Hosogai, since he used to play at Japanese football team Urawa Red Diamonds, and we live pretty close to Leverkusen…he decided to get season ticket and now he is enjoying the home game almost every 2 weeks :)
Though we still have other teams we do like and support much than others, anyway this year's our biggest support will go for this team carrying one of our favorite player…and also my hub was asking me if I can do Bayer04-related mani for looooooooooooong time…so now it's here!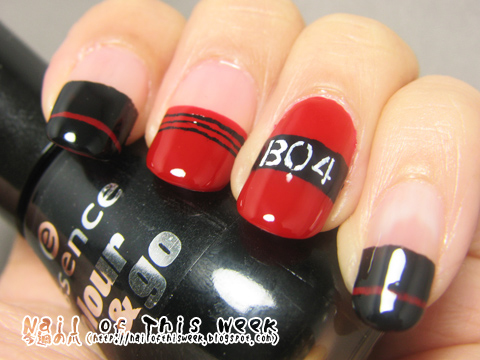 First, so sorry that topcoat pulled the color…alright do I need to seek around the good topcoat to seal the art properly? :( Anyway, as always, I took the motif from their uniform, but this time I took it from whole uniform; I mean, not only from tricots, but also from pants and socks.
Basically I'm pretty satisfied with this…even I must practice more for line drawing…it looks kinda sporty, no? I hope I can go to the game someday (yes, it's only my hub who's going every games!) with this mani! ;)
お久しぶりですブンデスネイル!!よく考えたら半年以上ぶりですよブンデスネイル!ブンデス1部リーグに限るなら一体どれくらいぶりだブンデスネイル!!
……ということで以前のネタはBVBボルシア・ドルトムントだったワケですが今回は今年の我々イチオシチームであるところの永遠のシルバーコレクターorzことBayer04レヴァークーゼンをネタにしてみますた!
何でBayer04かといえば 細 貝 が 戻 っ て 来 た か ら で御座います。ついでにうちの結構近所だからでもあります。近所だっつーんならゲルゼンキルヒェンもメンヒェングラードバッハもデュッセルドルフもそーじゃね?というところですがぶっちゃけ一番通いやすいスタがレヴァークーゼンだという。なので今年うちの(赤い血が流れておる)ダンナはシーチケ買って全ホームゲーム通い詰めております。↑の写真はその席からの光景。ありえん凄え席ですが当人全力で楽しんでおるようです。
さてそのレヴァークーゼンですがロゴが物ッ凄い めんどくさい ので描くことは早々に諦めて、相変わらずのユニモチーフネイルに走っています。ただレヴァークーゼンのユニってこれまた物ッ凄い 地味 なため、どーすっかなーといろいろ考えた末に取ったのが「全身取り」。っつーことで人差し指&小指はハーフパンツから、中指は靴下から、薬指はユニ正面から取りました。結果的にいい感じにまとまったかなあと思います。
ラインがきったないのだけは本当にどうにかしないとは思いますがorz あと相当良く乾かしたのにトップコートが盛大に黒を引きずってくれたのが大変にショックですorz トップコートを変えるべきか、引きずられない黒を探すべきか、どっちなんでしょうねぇ……(´・ω・`)