essence carry me home! (Ready For Boarding LE)
China glaze Love Letter (1 coat)
H&M Peppermint Fusion (round french, 2 coats)
Posca blue (stitch)
essence better than gel nails top sealer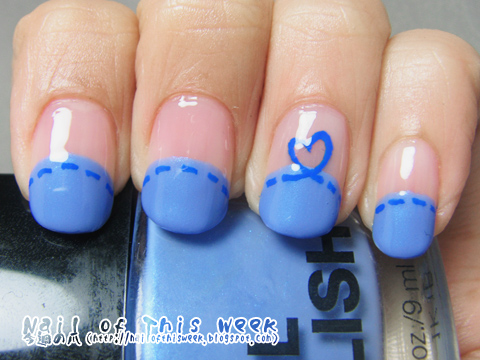 Cancer is enemy of life. It's so close disease for everybody. Theoretically all the organs can get affected by cancer, so each different cancer has its own awareness month. I've already done the mani for "Movember", the testicular cancer awareness, but today I'd like to add one more mani for another cancer, which awareness month is also November, the 2nd worst cancer in Japan, and actually my dad is fighting with just right now; the stomach cancer (gastric cancer).
Oh please don't get serious, he is OK. Now he is in the middle of chemotherapy so not in perfect shape, but he is doing fine; or even better than other guys in his age :) He is great enabler, great geek, master of my life, …actually I'm working as exactly same field as his :P So I'd like him to be much better, to his best shape, if possible.
So as awareness color is periwinkle…well, which color you call periwinkle? It's pretty hard to define the delicate color of polish, but this time I've picked H&M's Peppermint fusion, one of so-called periwinkle polish with blue shimmer. Hope this color will show my hope to everyone…and will give a message to get aware of stomach cancer, even it's not a major cancer in US/EU.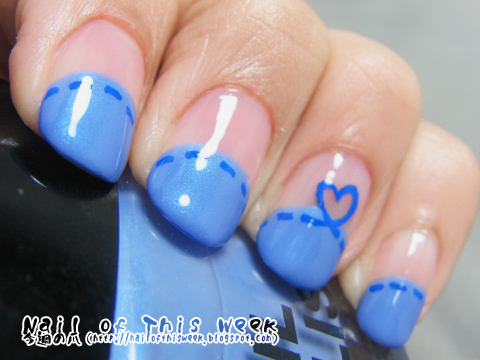 胃がんって日本人には凄く身近ながんですが、欧米人にはそうでもないようで……11月が実は胃がん撲滅月間でもあるということをついこの間知りまして。実は今年頭、身内に胃がんが見つかり、まあ手術でどうにかなったんですが……「○歳で死ぬとしてあと何食食べられる」がほぼ口癖な程の食うこと大好き人間だったので本人非常にがっかりしたりしつつ、とはいえ現在食べられる範囲内で全力で食を楽しんでいるようなのでこちらとしては不安な中多少安心はしているのですけれども。ただやっぱりがんって知らない間に来ていて怖いものだ、ということで今回は1人胃がん撲滅キャンペーンネイルであります。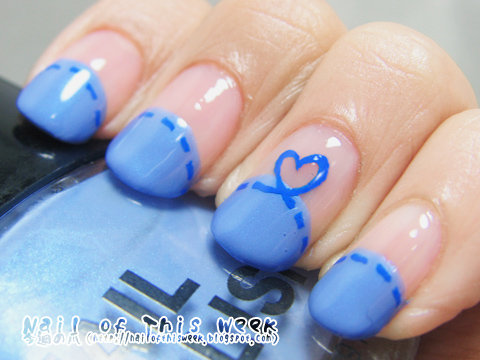 今回使ったポリの色=Periwinkleが胃がん撲滅カラーだそうですよ。日本人胃がん物凄く多いですし、ピンクリボンだけじゃなくて、こういう他のがんに対する撲滅キャンペーンがもっと広がればいいな、と(自分の無知を棚に上げて)思う次第です。