Ah…hem. I know there's TONS of Twilight fans but I must start the post to define myself as; I'm not a fan of Twilight saga. So sorry but I even HATE it. I just really can't understand why it's so big, popular and beloved…Well, I dislike pretty many stuff which is widely accepted, so probably this might be the part of it.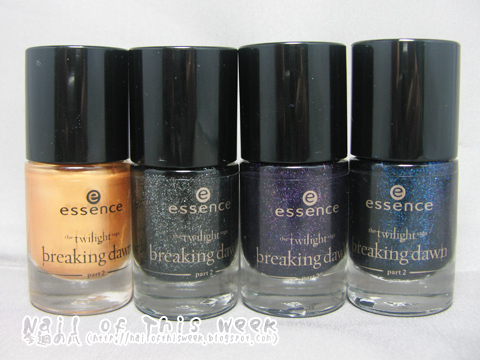 Anyway, I'm not a fan of vampire-themed stuff too…BUT THIS LE. Seriously, this essence's LE TOTALLY caught my eye and I could hardly resist them. Also, unlike Snow White LE, they're only 4 polishes…alright why not grabbing them all? :P So that's why I have all 4 polishes here, and decided to show the swatches of all these!!
---
a piece of forever
A piece of forever is a warm metallic gold with subtle silver glass flecks. Because it's really opaque and metallic, it leaves pretty much of brushstrokes…though formula it self is not bad, dries fast, fully covered by two coats but here I did three. Not very interesting, but still nice warm gold…fortunately I didn't have in my stash :D
---
edward's love
Edward's love is a black packed with silver and multicolored glass flecks. This one was very hard to capture, that mostly silver flecks appear very strong but not multicolored one. It's clearly there IRL! Also looks bit griddy and rough but actually it's not; flecks can be completely smoothened with one tice coat of topcoat. Full coverage with two coats but better for three.
---
alice had a vision - again
Alice had a vision - again is dark purple jelly with rich amount of teal/blue/purple glass flecks. I'm not a great fan of purple but I'm so in love with this one…so smooth, so juicy and squishy, not too strong but very deep! I love the color on the nail better than in the bottle, now I'm thinking probably I need spare bottle :P Good with two coats, but here is three coats.
---
jacob's protection
Jacob's protection is black jelly packed with tons of blue/green/multicolored glass flecks. Yes, you read right, it's BLACK jelly, not even dark navy, it's totally black on it's base color, and it really gives nice depth in the color especially on the nail itself. This one is definitely my favorite in all shades, I didn't get the backup bottle for others but THIS :D Enough coverage with two but here is three coats.
---
Overall, I LOOOOOOOOOOOVE this LE. Very beautiful and cool glass fleck colors EVER. Well still gold is not that interesting compare to the others, but yes at least OTHERS!! I really would like essence to do this kind of glass flecks - especially jacob's protection-like one, black jelly with multiple glass flecks - on other colors. How about deep red? Or forest green?? I don't know if ppl will love those shades, but I WILL!! :D
So…how do you think about these? Which one has caught your eyes? :D