essence carry me home! (Ready For Boarding LE)
essence colour & go! black is back (2 coats)
Swarovski rhinestones (#2028, ss9, middle and pinky)
Swarovski chatons (#1028, pp14*3, index)
Swarovski chatons (#1028, ss17*2 + ss28, ring)
essence better than gel nails top sealer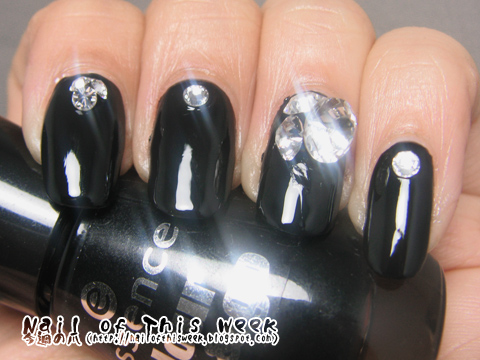 Yeah here is another polish day; and the last polish day in 2012! The last theme of polish days 2012 is one of the most gorgeous word in the world, "BLING".
The word "BLING" for me means nothing but "DIAMONDS". Especially the colorless one. I'm not super-duper crazy for diamonds, very honestly I love my birthstone emerald much more, but for me still the word "BLING" is for diamonds and nothing else.
So…if I could use certain carat's diamond for mani it really represented my mind of "BLING", but OF COURSE it's totally impossible, I've used diamond-cut swarovski chatons instead :)
Here you can see how I put the point-ended chatons on "flat" nail surface. Sorry for little smudge on the surface of mani, but they're stuck pretty well :) I didn't apply topcoat on these, so they BLING and SPARKLE like crazy…really fun!! :D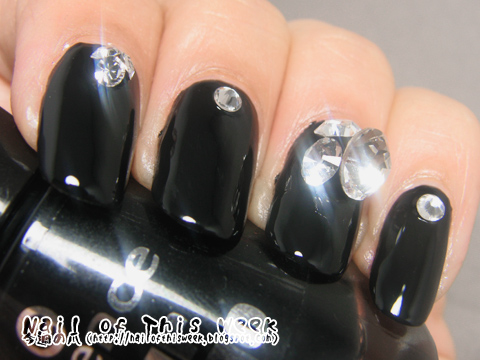 海外ネイル部ことPolish Days、2012年最後のお題は「BLING=ぎらぎら!!」で御座います。正確には「Bling」という単語をぎらぎらと訳すのは何だか違う気もするのですが、要はダイヤとかスワロとかの光反射しまくりなキラキラ感……と思って頂ければいいのでは無いかと(自信無い)。
ということでこういう「キラキラ」っつーならもうストーンしか無いでしょ!がっつり盛るしか無いでしょー!!……とか思いつつVカットストーン3点盛りで終わるのが私クオリティorz いや、テクニックがあるならアクリルで伸ばして上にごってごてに盛り付けるのに!という感じではありますがまぁ如何せんテクが無い&そんな度胸も無いorzのでここで終わりましたはっはっは。
とはいえカラースワロを使わずクリスタルクリアのみ、かつベースカラーを黒のみで仕上げたのはちょっとしたこだわりです。Vカットスワロのきらきら感を一番楽しめるのは何のコーティングも着色もしていないクリアだと思うんだ!そしてそれを引き立たせるのはやっぱり黒だと思うの!!お陰でえらいことクールな雰囲気の爪になってしまいましたがこれもまたいいかな、と思いつつ。
ちなみに個人的一番のお気に入りはプチサイズVカットを3点盛りしたこの人差し指です。ちっちゃいけど素敵存在感!普段使いにも悪くないサイズに仕上がったので、他カラーでもやったらかわいいかなあと思う次第です( ´ω`)