essence carry me home! (Ready For Boarding LE)
China Glaze Love Letters (1 coat except ring)
essie beyond cozy (round french except ring, 3 coats)
essie snap happy (ring, 3 coats)
Nail for All round glequins (pure white, 1mm & 1.5mm)
Nail for All diamond glequins (pure white)
essence better than gel nails top sealer
I STRONGLY HOPE SO!!
I was thinking as "Ah, I still have several days til X'mas" til YESTERDAY and then suddenly found X'mas is already HERE!! I was in small panic that I didn't do any festive mani til now, I def had to but I had no idea what to do, I couldn't decide even yesterday…OMG my poor inspiration!
I was almost giving up to do something special, but this morning, morning of Christmas eve, when I've got up…something yelled me "DO IT!!" with certain idea, so that's why I'm here with this mani!! :D Polishes I've used are from essie's winter 2012 collection. Their silver and red was exactly what I wanted for Christmas-feeling mani for me <3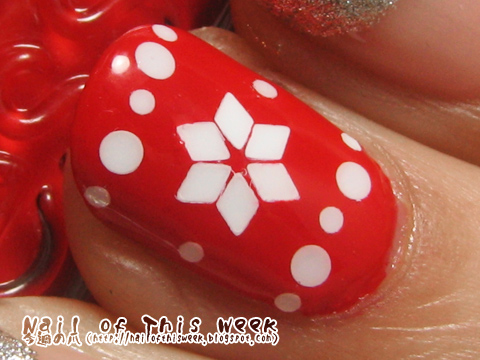 So snap happy is bright warm red creme. It's warmest in all red cremes I have but not warm/bright as vermillion, it's still red. This is also first time to use nail for all's glequins (big thanks to my friend Coppi!) …they're really thin and even size/shape so were really easy to apply!! Unfortunately these glequins are only available in Japan, but I STRONGLY hope they'll sell these high-quality glequins abroad too :)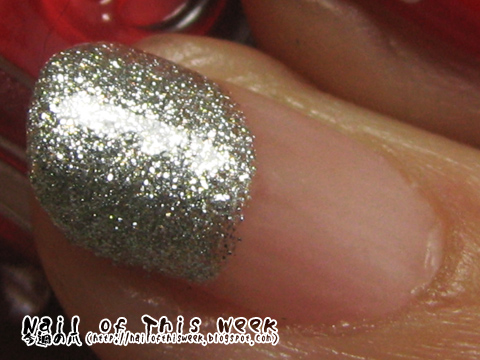 Silver glitter is called beyond crazy. It's not simple silver glitter, it's super fine silvers spiced with small light golden glitters. Because of this spice of gold, it looks like warm-toned silver which is really pretty and unique. Coverage is great too, two coats was already enough even I did three to get rich color.
Anyway this is my Christmas mani! I'm happy that finally I could reach here. It doesn't hurt anything even I gave up to do something seasonal, but better than doing nothing…and I def feel good and ready to enjoy Christmas <3 Happy merry Christmas for all of you, hoping you'll enjoy the nice festive time!!
クリスマスまでまだ間があるなー思ってたらこれですよ。24日ですよ今日。昨日気がついて真っ青になりましたよ。他のこともいろいろやってたのでもちろんクリスマスを忘れていたということでは無いのですが、クリスマスネイルをやるのを忘れていたという。だって何も思いつかなかったんだものー!緑が使いたいなあというのはあったのですがそれ以外何も出なかった。そのまま今日まで来ちゃったのですが、今朝まさに起きた瞬間に「コレダ!」いうのを思いついてそのまま勢いでやったのが今日のネイルです。
何 処 に も 緑 が あ り ま せ ん が 。 orz
クリスマスというより冬ネイルという感じがしなくもありませんが、このessieの赤とシルバーの取り合わせは凄くクリスマスっぽいなと思ったもので(;^ω^)あとNail for Allのホロ初使用ですが(こっぴさんありがとーう!!)薄くて使いやすくていいですねコレ。ただオーロラシルバーとピュアホワイトでひし形のカットが明らかに違っていてどゆこと?と思いましたがwこういう幾何学系模様作るのにはラクだしかわいいしでいい感じです。もっと集めたいところ!……一時帰国まではお預けですかねぇ(´・ω・`)