essence carry me home! (Ready For Boarding LE)
P2 eternal (2 coats)
Color Club Love 'Em, Leave 'Em + Mash plate #42
essence better than gel nails top sealer
...And because I wanted to begin my first mani of 2013 - yeah, last one was my new year EVE mani = last mani of 2012 :D - with something new for me, I've decided to go for stamping mani with Mash plate I've got from Mara@Mara in polishland! I've been thinking to try that for several times, but because my first trial with cheaper essence's set turned out to COMPLETE FAIL, I couldn't push myself to try again since then…until today.
And after several practicing and final result I've got on this mani, now I can say "yeah as others say, stamping is pretty EASY!!". I wanted to have snake-scale-like effect on my nail and I'm totally satisfied with this result I've got here. I've tried for several color combination but this black+scattering holo beige combination is def my favorite for this design! :D
I think stamped pattern went almost perfect on this mani! But…what made the difference? My first trial was, as I noticed above, the cheap fauxnad set by essence. Honestly it was a nightmare, that nothing went OK. Polish dried too fast, stamp didn't pick up the pattern properly, color stuck very strong to the graves…I mean, everything went wrong.
Today's stamp was done by Konad double-sided stamp (I've filed the surface a bit before the first use), Mash plate and normal polish. And this combination gave me the successful result :D Any polish fit OK for Konad stamp + Mash plate combi. And was super easy!! It was SO easy that I was like "WHY I haven't try for these earlier!?"…yeah, but that's life :P Now I'm willing to go for more design using these amazing plates…OMG I'm already really excited!! :D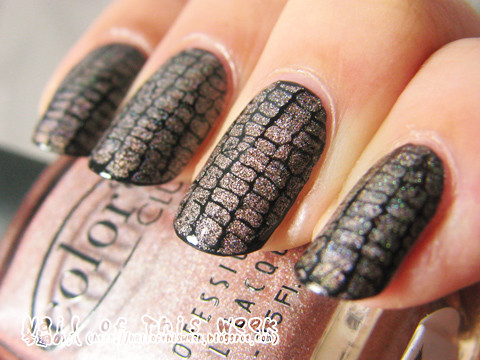 さて2013年は巳年、というのと新年一発目=何か新しいことをやりたいぞ!ということでKonad(スタンプ)ネイル初挑戦です。いや嘘、Konadスタンプは今までにも何回かトライしているのですが何せ失敗続きで(´;ω;`)まずスタンパーが色を拾わない。専用ポリも乾きが激烈早くてそもそもスクレイパーでかき取る前に半乾きになっていて上手く溝に入ってくれない。挙句溝入ったまま乾く。……そんなだったのでこんなん出来るかアホー!!だったのですが、諸々あって「本家Konadのより使いやすい」という評判のMashプレートを入手できたので使ってみたのが今回の蛇ネイルです。
って割りと上手く行ってると思いませんか。少なくとも私は満足です。多分勝因は1)スタンパーを変えた(Konadのにした)&ファイルで表面を軽くプレップしたこと、2)専用ポリでは無く普通のポリを使ったこと、だとは思うのですがプレートも結構関係あるかもなーと思っています。確かちょっと他のプレートより溝が深めだったんじゃなかったかな。なのでかなりしっかりポリをかき取ってもまだ大丈夫です(`・ω・´)
惜しむらくはMashはアメリカのみの販売であまり簡単には入手できないこと。ポリみたいな可燃物じゃないんだから、もっと外に出して欲しいものではありますが……(1月6日訂正:調べたところ国際発送するようになったようです(`・ω・´)日本への送料はプレート1セットで約$6、2セットで約$10でした。参考までに!)ともあれ、今後はもう少しスタンプネイルを気軽に楽しむことが出来そうです!次は何をやろうかなー( ^ω^ )