essence carry me home! (Ready For Boarding LE)
Butter London All Hail the Queen (3 coats)
essence better than gel nails top sealer
Since I've known this shade, it was looooooooooooooooong time lemming for me. Each time when I go to local Douglas, each time I went to its display, looking and watching and handling this specific shade with *le sigh*…I'm sure I was one of most weird customer for them. But after a while, finally, I couldn't stand without this polish and…it's here with me!
I was so happy and so satisfied; All Hail the Queen made me feeling like myself. BUT I was maybe too satisfied, that I was totally OK just looking and handling the bottle WITHOUT trying it on my nail!! D: OMG what a shame, I had to try it much before, but well…better late than nothing, right?
So here it is, Butter London All Hail the Queen. I'M SO IN LOVE. Holo is subtle but very different from others. It's kinda scattering holo, but holo particle is ultra fine to provide very delicate and beautiful sparkles. Actually it was super hard to capture, it's 1000 times sparkly and beautiful IRL than present photos! :(
Formula was again pretty easy and smooth, a bit sheer than expected, but is def most easy handling polish in my stash :) I think this is one of must-have office polish for asian people! Oh Butter London, WHY DON'T YOU COME TO JAPAN!? I'M SURE EVERYBODY WILL LOVE YOU!!…Well I live Germany, so I'm pretty close to them though :P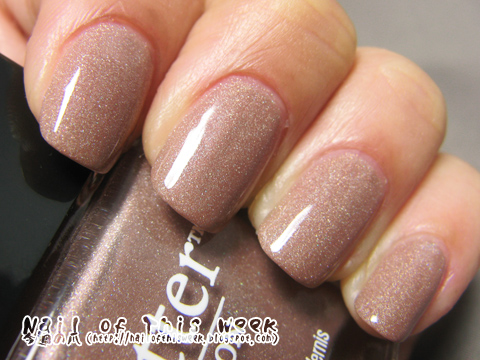 日本に入っていないButter London、ではありますがこのベージュ玉虫ことAll Hail the Queenは知名度高いようですな。ヌーディなベージュに虹色に輝く繊細なラメ。ラメの感じがちょっと他のブランドとは違っていてとても美しい。私も大好きです。というか物凄ーく悩みに悩み考えに考えた末買った大事な1本です。故に手に入ったことで大満足してしまい今の今まで使っていなかったという。罰当たりにも程がありませんか自分。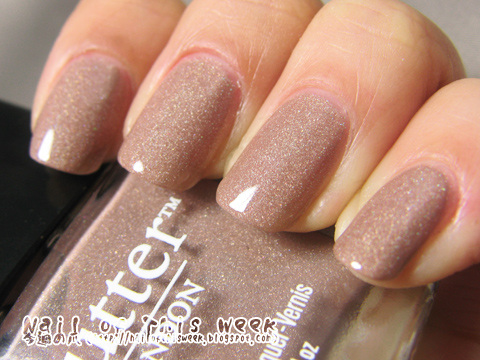 とはいえ今回やっと、やーっと!塗れたので満足です。ボトルで見てもきれいでしたが実際塗ってみるとその上品な玉虫加減に惚れ直します。何でもっと早く塗らなかったし!みたいな。でも私の職場は手先の邪魔にさえならなければ基本何でもOK、黒でも緑でも青でもラメでもばっちこーい!な職場なので何塗っても大丈夫=なかなか手が出なかったのでした。いや今となれば何でやねんとしかいえないのですが。色味としては確かに地味めなのでアートのベースとしても良さそうです。ホロとの相性なんかいいんじゃないかなー!