essence carry me home! (Ready For Boarding LE)
a-england Dragon (2 coats)
essence colour & go! black is back (stamping)
essence better than gel nails top sealer
I'd like to begin this post shouting out loud that a-england Dragon is the BEST GREEN POLISH EVER. At least for me. Very first application hit my heart, after all I could drool on my painted nails, my heart was beating, lost all my words…except "WOW". I haven't been like that EVER; this is how I fell in love with this amazing shade.
So…how I call this. Crystal of pure perfection or what. Deep moss green holo is something we never can find anywhere else. With such a lovely smooth well-pigmented formula, it's kinda dream-comes-true shade. I've seen many people describing this as "scattering holo", but if I go very close…I could notice linear holo effect too, which is giving super lovely effect to this shade.
Actually…I didn't expect that I'll fall in love such instantly and deeply. Even by tons of amazing swatchs around, I simply put into my wishlist and that's it. Now I want to say so sorry to Adina, the creator/designer of a-england, that I didn't believe this shade is such a stunner. If you love green and still don't have this shade, YOU MUST GRAB THIS!!
Of course I love the shade itself, but after I've enjoyed the shade I thought it'll be cool if I'll add small spice to this…not too strong but something cool…and here it is! I think black is pretty friendly color to stamp on a-england Dragon; now how do you think? ;)
ああもう大好きだ結婚してくれ!<違
元より緑ポリは好物なのですが、そして勿論玉虫も大好物なのですが、にも関わらず今の時点まで買っていなかったのは一重にセール待ちだったwのとまぁそこまで死ぬほど欲しい感じでもねーし?と思ってたからです。とはいえ一応買いたいリストには突っ込んでたのですよ。でも今すぐ即刻欲しい!というような物では無かった。
なのでセール来るまで放置→来た→買う、という一連の流れを経て届いたのが一昨日です。それでもボトルカラー見ただけの時点では「わーやっぱり噂通りキレイだわー」程度だったのですが昨日実際に塗ってみて
堕 ち ま し た
艶のあるこっくりとした濃い抹茶グリーンに光の当たり方によって多彩な輝きを見せる玉虫粒子、そしてうっすらとでもしっかり輝く虹色の帯!あまりの美しさにベタ塗りだけなのにも関わらず塗ってる最中からうっとり幸せな気分でいっぱいでした。こんなのはじめて(ポッ <誰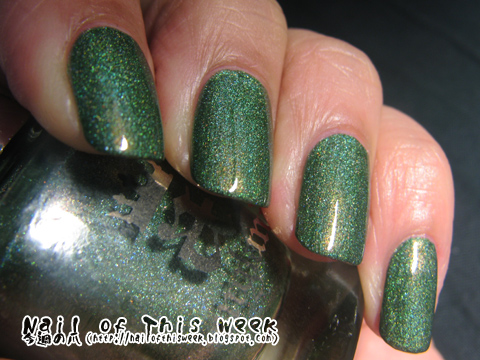 濃い色ですがむしろ派手さは無くとてもシックにまとまる素敵カラーです。日本人には絶対に合う色!下手なスキンカラーよりずっと上品に決まる感じですし、例えば黒と合わせてVフレンチとかしたらそれだけで和風になりそうな気がします。いうか絶対きものに合うと思う。近々やりたいところです(宣言)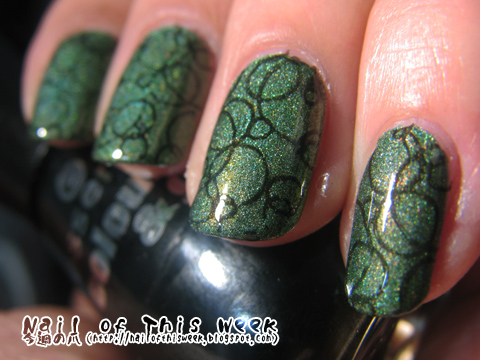 さて濃い色=黒との相性が非常にいい、ということでちまっとスタンプしてみました。うむ、黒面積が極力小さいようなパターンを選ぶとよろしいですな。ちなみにこのDragon、1回塗っただけでもばっきり発色するくらい濃く作られているカラーなのでスタンプに使うのにもいい色だと思われ。海外ブロガーさんの作品の中にはコレを使ったほんっとーにカッコイイスタンプ作品が多数見受けられるので、何れ真似っこしたいなーと思っております(`・ω・´)