As most of you already know…Born Pretty Store is Hong Kong-based nail supply shop with good deal & free shipping world wide. They kindly asked me if I can write the review for one of their products, and what I've chosen is…
THIS.
I believe this is pretty new in their shop because before when I went for shopping personally I couldn't find this at all. I was really wondering WHY round glitter was not available (especially because it's SUPER common in Japan), but…finally it's here!
So as you see, it's a 12-color glitter set. This retails for $7.60 with FREE INTERNATIONAL SHIPPING (and also you can get 10% off for entire order by using coupon code: CDL91). I don't know exact amount for each glitters, but it was completely filling up the 3cm x 2cm round case = about 14ml or 0.5fluid oz.
Size was not indicated in website but it's around 1.2mm as above and I suspect that the size is made by inch-scale. Anyway it's pretty small and that means it's really useful for nail art/decoration, so OF COURSE I did…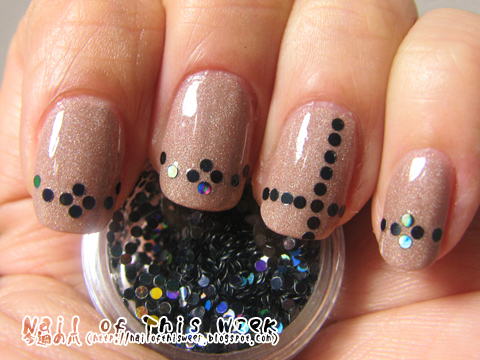 ...as this! :D
Base is my previous mani with Butter London All Hail the Queen, covered with one thin coat of clear polish (I used one from P2) and applied black glitter while it's still tacky. Toothpick was perfect tool to pickup the glitters with a help of tiny amount of clear polish as well.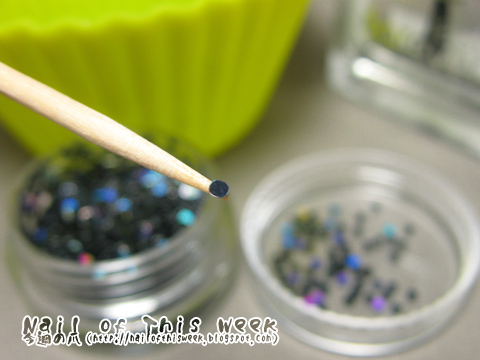 It was nothing difficult or complicated to apply these small glitters! Of course it takes a time but making a dotted pattern with glitters is nothing but fun. Also because all the glitter has perfectly exact size & shape, I think it's nice solution for dotticure :)
Further, this glitter seems to be solvent resistant; At least my topcoat NEVER pulled the color from glitter. I've even tried to soak glitters with clear polishes to see if they're at least topcoat resistant or not, and nothing happened to glitters.
Please note that my topcoat is my everytime essence's better than gel nail top sealer; which pulls colors pretty often for example when I go for stamping or tape mani. Above was 5 min after I've mixed glitters and topcoat, but as you see…no change at all.
Well overall, I like this glitter :) It's really thin and this def helps to create flat smooth crisp dot designed mani. BUT I must say there's only ONE point I don't like…or I'd like to hope, just in my taste…
...they're iridescent glitters. I think normal metallic color without such an effect is much useful and I really wished if they had one without iridescent effect, and actually not. OK, I won't say it's bullshit, but I simply hope if there's same kind of glitter set WITHOUT iridescent effect just because I feel it's much useful.
But anyway, I'm pretty happy with this glitter palette! If you love to do nail art yourself, this one is def must-have to expand the idea/design. Although I hope for the wider range of color, 12-color set of nice quality glitter in $7.60…YES PLEASE :D
So…If you're willing to get round glitter for your nail art, first go to Born Pretty Store!! They also have the round glitter with bigger size, I'm thinking if I'd get them or not…pretty seriously :D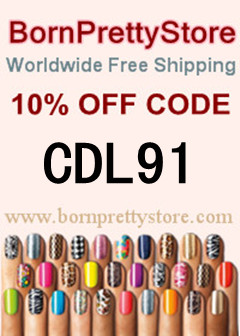 AND DON'T FORGET TO GRAB THE 10% DISCOUNT CODE ABOVE when you're going to purchase something from them!! ;)
ちょっと追記:今回のはBorn Pretty Storeという香港のネイルその他商材屋さんの宣伝記事で御座います。こちらで丸ホロってほんっとに手に入らないのですが、やっと扱う店が出て来たよー!みたいな。日本の方々には縁の無い話だとは思いますがwとはいえBorn Pretty Store、まさにメイドインチャイナな激安モノがちょいちょい揃っていたりする(モノにも寄りますが)&国際送料無料&対応結構いいので参考までに。ただすっごい量が来ることもあるのでご注意です。
ちなみに↑のディスカウントコードを決済時に入力することで10%オフに出来ますよ、とw
以上宣伝でしたー!(・∀・)
*Product is provided from the shop for my honest review*